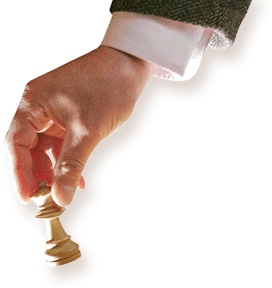 Chess Course - Grandmaster Package™
Professional chess course + unlimited coach support
"I just had a huge chess success […] FIDE performance of 2288, and local performance of 2344. I have used almost exclusively your materials to attain this level of performance." Matt H.
"I have taken lessons from a GM before and this is much more affordable and just as good. My rating is 2151 now." Cody W.
Grandmaster Package™ is a professional one-year chess course with unlimited teacher support and guidance. You'll follow a structured program of lessons and tests and an integrated training method.

Who is this course for. Students' results.
The course teaches at an advanced level the most important aspects for chess improvement: how to think like a strong player, strategy, calculation, board visualization, complex middlegames and endgames. At the end of the course, you are expected to have acquired theoretical knowledge and practical skills at the level of a chess master.
Chess Course Program
The course follows a complete, structured program for one year and one month – the chess course program (download PDF).
Samples – chess lessons from the beginning
The course is really large and comes with a wide variety of materials that are of increasing complexity. The following samples are from the beginning of the course.
Download the chess lessons in PDF format:
The Training Method
Using the written lessons (presented in PDF format), you can easily use a real board for chess study. As it's strongly recommended by professional chess coaches, if you want to progress at chess you should use a real chess board.
Garry Kasparov: "Solve using a board. Solve [problems] at the chess board - a real one - not at the computer screen. If you want to make real improvement, real progress, try to stick with chess pieces. [...] Make sure that you solve everything at the chess board."
We give you exercises to help you learn to put in practice the theory. Our solutions also explain how the best idea and move can be found. Moreover, you can send your own solutions and questions to us.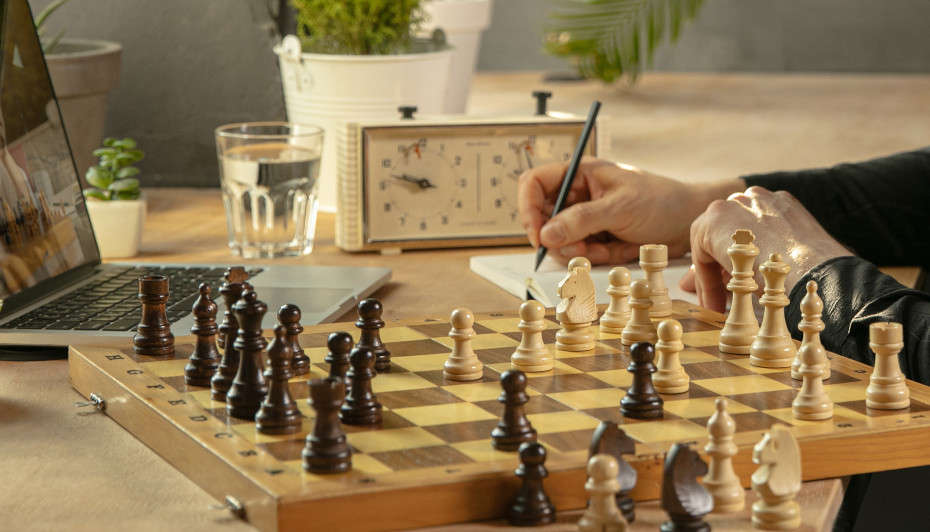 Chess Course with Teacher Support
Our chess course comes with unlimited teacher support by email. You'll have a professional chess teacher permanently ready to answer your questions and discuss your analysis. This $25/hr value service is included in the package at no extra cost.
Reviews from our school students
We've selected to share with you a few reviews from students who completed the course.
"A very systematic and thorough program – it really is fantastic – I am already beating most masters more than half the games." - E.J.
"I played in my first international tournament and finished with an even score of 4.5/9, a FIDE performance of 2288, and a local performance of 2344. I have used almost exclusively your materials to attain this level of performance... The quality of the material throughout the course is very high and there is much material to work through. Good work guys your material was like a breath of fresh air. I am understanding and enjoying my chess better than ever before. My result is on the FIDE website now!" - M.H.
"Your student did really well today. He is now the newly crowned champion of Junior Chess Open [...]! I had a long conversation with his father and we both agree that you have a very good chess program and excellent teachers!!!" - K.L.A.
Check out more student testimonials »
Choose Your Program
You can choose the monthly program or opt to receive the full course all at once. If you buy the full course, you save $99 compared with the monthly payments and also get the full Openings Module as a bonus!
Grandmaster Package
Monthly Program
Your account is updated on a monthly basis for 13 months, giving you access to new lessons, annotated games, exercises and tests. You can pause, cancel or resume the monthly program whenever you want. If you don't interrupt your subscription, Month 13 will be free.
GRANDMASTER PACKAGE
One Year - Monthly Program
with Chess Coach Support!
$29 / month
Subscribe with Card
|
Subscribe with PayPal

Grandmaster Package
Full Course

+
Openings Module

Full Course

You'll get full access to the complete 13-month course so you can access the materials in any order that you like.

Opening Preparation Module: Opting for the full course, you'll also get a great bonus: our complete 13-month Opening Preparation module, $85 value.
Download the Openings Preparation program
This module was built together with the core course so they follow the same thinking pattern. The opening lessons teach you not only the opening moves and ideas but also what to do AFTER the opening, in the middlegame.

Lifetime access and chess coach support: Your account does not expire and we offer unlimited support for our courses!

GRANDMASTER PACKAGE (full) +
Openings Module (full)


with Chess Coach Support!

$373

$249

Pay with Card

|

Pay with PayPal

"This isn't just a 'pot boiler' like so many courses and books, but a serious, well thought out course of instruction. ...mastering the material coupled with time, play, and perseverance will surely suffice to create a player of master strength. Well done!" - Dr. Edward B., USA
"I wanted to say how impressed I am with the quality of the material provided. I have an ELO of around 2150 and have read hundreds of chess books. Rarely, if ever, have I encountered such a clear explanation." - John M, USA
For more information please see the frequently asked questions or contact us by email at admin@chessmasterschool.com