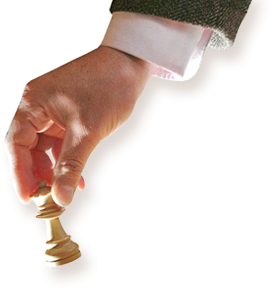 GRANDMASTER PACKAGE™
Professional Chess Training for One Year
Everyone wants to improve at chess but very few become chess masters. In fact, many chess enthusiasts never reach a 2200 ELO rating. The big difference between success and failure lies in HOW YOU TRAIN and WHAT YOU STUDY.
Andrei Istratescu, head of International Chess School, studied with the best chess teachers in the World. He completed the best chess training programs. He studied chess the right way.
As a result he became an International Master at 16, National Chess Champion and Grandmaster at 18. Now he is not only one of the strongest players in the World, a TOP Grandmaster with over 2700 best ELO FIDE, but also a professional chess teacher. He trains other grandmasters and the national chess team of France, one of the best in the World.
The International Chess School GM Package brings the same high quality chess training to you. You can be sure that you will learn chess the right way, in the most professional way; in this way you will reach your peak potential!
"With your original chess school it looks like all the tools necessary to reach master level are being provided. Thank you for continuing to be on the innovative road of chess training with the approach to training that I always thought was possible but never knew where to find it." - Andrew Plunkett, Canada
We offer all our knowledge and methods to our students. This is why many of our students became masters and our good friends also!
"I played in my first international tournament and [obtained] FIDE performance of 2288, and local performance of 2344 (Chess Master). I have used almost exclusively your materials." - Matt Hassen, USA
Grandmaster Package OVERVIEW
The Grandmaster Package is the foundation for high-level play in chess, a systematized collection of essential chess courses.
It contains EVERYTHING you have to study in one place. You will follow a structured plan of improvement and your chess will improve month by month for one year.
The Grandmaster Package teaches you EVERYTHING a strong master should know in chess strategy, positional evaluation, calculation, tactics, thinking, planning in chess, technique of play, art of analysis and more.
Everything is high-quality, very well explained, easy to understand, directly to the point and all-inclusive! In any field of study, you need all the essential information and the Grandmaster Package gives that to you. You get all you need, exactly what you need: no more, no less.
"This isn't just a "pot boiler" like so many courses and books, but a serious, well thought out course of instruction. ...mastering the material coupled with time, play, and perseverance will surely suffice to create a player of master strength. Well done!" - Dr. Edward Baker, USA
Real Teacher Support
Unique to our chess school is also the teacher support. We offer guidance and help with any problem you might have studying our courses.
FIND OUT MORE - NEXT PAGE:


ABOUT THE LESSONS & FREE SAMPLES