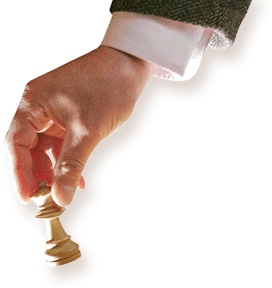 International Chess School
We have been in chess training business since the year 2007. Beside being the first chess school online, we keep the same, good methods of classic chess education.
Using our chess lessons and training programs, our students have achieved excellent results - such as:
chess master, FIDE master, International Grandmaster,
national champion, World Chess Champion at scholastic chess.
It's Your Turn: Grandmaster Package »
"I played in my first international tournament and [attained] a performance of 2344. I have used almost exclusively your materials to attain this level of performance. The quality of the material throughout the course is very high." - Matt Hassen, USA, FIDE chess master.
"As my students have taken home more trophies recently at state tournament competitions, where several more highly rated coaches compete, there have been questions about my 'secret weapon'. Of course I have been happy to share that it is the International Chess School." - Neil Dietsch, president of Alabama Chess Federation.
We founded the International Chess School with the clear objective of helping our students to progress to the level of chess master and beyond. Hence, we provide advanced chess training consisting of:
high-quality Chess Lessons and Tests;
Chess Teacher support;
Professional training method.
Grandmaster Package™ is our core chess course and training system. It is based on advanced Lessons, Exercises and Chess Teacher assistance. The working materials cover chess strategy, calculation, openings, middlegames, and endgames.
Chess Lessons for High Performance – Good for All Levels
We designed the chess lessons for intermediate and advanced level. However, we also take care of beginners. Therefore, our lessons come with thorough, clear explanations that every level of player can understand. In addition, our free chess teacher support service will help you overcome any obstacle!
Chess is a Strategy Game
One of our students, also a chess coach, said that, without a good strategy and plan, chess is like "shooting in the dark [with] a bow and arrow and hitting a bull's eye. [...] This course provided true understanding." This is true. A deep understanding of strategy is, indeed, essential for playing strong chess. In fact, chess masters and grandmasters are always trying to develop and to excel at strategy. For this reason, chess strategy and middlegame training are the main parts of our chess training program.
Chess Teacher Included!
When you study advanced lessons, you can meet obstacles or have questions. Furthermore, when you have big goals, you may need a professional trainer to guide you. No problem! At the International Chess School, you'll have professional chess teachers who are ready to assist you. This way, you can save yourself $30/hour, the average cost of a personal chess tutor.
Serious Chess Training Program & Method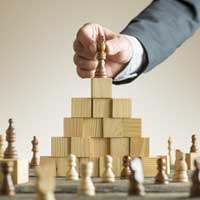 With our Grandmaster Package you follow a structured, long-term training program. This way, you can improve your chess easily and set yourself big – but achievable – goals. That certainly would not be possible with a piecemeal and unstructured approach to learning.
Garry Kasparov pointed out to two important things for anyone who is serious about making real progress in chess. Firstly, you must study on an actual chess board and not on a screen. Secondly, you should solve many problems.
Chess prodigies and young grandmasters prepare using these very same training methods. At our chess school, you also have the 'personal' assistance of a chess teacher.
Learn more about our core chess course »