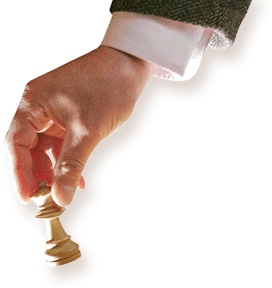 International Chess School
Professional Chess Course
+
Full, Unlimited Coach Support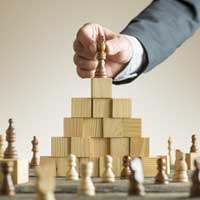 Grandmaster Package™ is a professional, structured 13-month chess course with full chess coach support. This is like studying a series of chess courses following a structured training program and having the course creators in front of you. So, your questions will be immediately answered by a professional chess coach – at no extra cost.
The Chess Course Program
The course follows a complete, structured program for one year and one month (13 months). Download the course program.
The chess course is designed for about 7 hours of study and training per week. However, you can study at your own pace as you'll have life-time access to the course and teachers support.
The Chess Lessons
The course is really large and comes with a wide variety of materials that are of increasing complexity. The following samples are from the beginning of the course.
Using the written lessons (presented in PDF format), you can use a real chess board for study. This is strongly recommended by top grandmasters and elite chess coaches:
Garry Kasparov: "Solve using a board. Solve [problems] at the chess board - a real one - not at the computer screen. If you want to make real improvement, real progress, try to stick with chess pieces. [...] Make sure that you solve everything at the chess board."
The Chess Teachers
Subscribing to the Grandmaster Package, you'll have unlimited support from the chess coaches.
"I have taken lessons from a GM before and this is much more affordable and just as good. My rating is 2151 now and I can't thank you enough for the great information you have to offer." - Cody W.
As the course consists of advanced lessons and tests, you may want to discuss some lessons or positions. Great! As a student of our school, you'll get detailed answers and analysis from a professional chess coach. So, you save yourself $40/hour, the average cost of a personal chess tutor.
Choose Your Program
You can choose the monthly program or opt to receive the full course all at once.

Black Friday Sale: Until November 28, inclusive, we offer an aditional 15% discount for the full course! See discount and bonus.
Grandmaster Package
Monthly Program
Your account is updated on a monthly basis for 13 months, giving you access to new lessons, annotated games, exercises and tests. You can pause, cancel or resume the monthly program whenever you want. If you don't interrupt your subscription, Month 13 will be free.
GRANDMASTER PACKAGE
monthly program
with Chess Coach Support
$30 / month
Pay with Card
|
Pay with PayPal

Grandmaster Package
Full Course
BONUS: Openings Module
With this option, you'll get the full 13-months course all at once. So, you can study at your own pace, maybe faster, or study the lessons in any order you like.
Opting for the full course, you also get our complete 13-month Opening Preparation module as a bonus.
Download the Openings Preparation program
This module was built together with the core course so they work very well together. At the end of the opening variations, we give the TO DO List, so you'll know how to play in the middlegame.
GRANDMASTER PACKAGE
Full 13-month Core course +
Full 13-month Openings module
with Chess Coach Support
$390
$270
$229
Pay with Card
|
Pay with PayPal

---
✔ The choice of chess coaches
About 15% of our clients are chess coaches! Coaches from USA, Australia, UK, Netherlands, and all over the world take our courses to have good working materials with their students.
Anyway, we do offer coach support for our lessons.
✔ We are the first Professional chess school online.
We have more than 15 years of experience as an online chess school. We offer high-quality chess lessons and exclusively classical methods of chess training.
Advanced chess lessons with explanations for all levels;
Challenging exercises and tests with thoroughly annotated solutions;
Lessons on all the essential aspects for improving: middlegame, complex endgames, calculation, board visualization, "grandmaster thinking", attack &amp defense and many more.
Annotated chess games with quizzes in the key moments;
Chess teachers will assist you with anything related to the lessons or exercises.
✔ Great results of our students:
chess master, FIDE master, International Grandmaster,
national champion, World Chess Champion at scholastic chess.
"I played in my first international tournament and [attained] a performance of 2344. I have used almost exclusively your materials to attain this level of performance. The quality of the material throughout the course is very high." - Matt Hassen, USA, FIDE chess master.
"As my students have taken home more trophies recently at state tournament competitions, where several more highly rated coaches compete, there have been questions about my 'secret weapon'. Of course I have been happy to share that it is the International Chess School." - Neil Dietsch, chess teacher and president of Alabama Chess Federation.
"This isn't just a 'pot boiler' like so many courses and books, but a serious, well thought out course of instruction. [...] mastering the material coupled with time, play, and perseverance will surely suffice to create a player of master strength. Well done!" - Dr. Edward B., USA
Read more student testimonials »