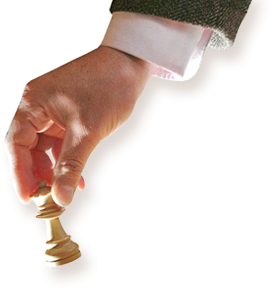 GRANDMASTER PACKAGE™
Chess Lessons
No, not all chess lessons are the same. Many chess enthusiasts study chess books of all kinds, but again, very few became chess masters. Why is that? It is because the quality of the chess lessons - exactly WHAT and HOW you learn - makes the difference between real success and failure.
"I wanted to say how impressed I am with the quality of the material provided. I have an ELO of around 2150 and have read hundreds of chess books. Rarely, if ever, have I encountered such a clear explanation." - John M
"I'm really very very very happy about these lessons. I'm 52 years old and began 2 years ago playing in Internet. I have a lot of books, DVD, and, believe me, no one explain chess like your Chess School. Now I begin to understand really HOW TO PLAY CHESS! To qualify these lessons there are only three words...1. EXCELLENT...2. EXCELLENT...3 EXCELLENT." - Balduino Lekeux
"Let me thank you for putting together this 13-month program. Speaking as someone who has over 500 chess books (I am somewhat of a collector) I have found this program to be HIGHLY instructive and easy to assimilate. I finally feel like I have a systematic approach that can help me stay on track and meet my goals." - Roland W.
EXACTLY WHAT YOU NEED
There is a lot to learn and time is precious, so our lessons are to the point and well-structured. You can read every lesson with ease and assimilate the subject at hand. There is exactly what you need, no more, so you get complete knowledge in MINIMUM TIME. With our lessons, your chess will improve every month.
The GM Package is focused on the most important aspects of chess strategy, positional chess, and middlegame chess strategy which will make you a strong positional chess player. You will know what to do in every situation on the chess board.
Also, the GM Package includes high-quality training in many other areas, essential for your chess improvement:
Thinking process: You will learn to Think Like a Strong Player;
Board visualization - importance, training, technique;
The art of analysis - in the spirit of Botvinnik / Russian chess school;
Positional chess training - unique ICS training;
Technique - how to win a "winning position", how to save bad positions;
Winning chess plans in all typical positions;
What to really look for in ANY position on the board;
Essential lessons in tactics and calculation
Moreover, the Grandmaster Package includes over 12 hours of video lessons as bonus to help you understand the theoretical subjects more easily and deeply.
CHESS LESSONS SAMPLES
Our GM Package covers a large variety of material as we teach chess theory in a thorough manner. The courses contain theoretical lessons on strategy, tactics, openings, endgames, thinking process, annotated games, practical lessons, video lectures, board visualization, quizzes, and positional tests.
Chess Lessons Samples:
[These lessons are from the beginning of the course. More and more advanced chess lessons are given in the subsequent months.]
"I wanted to let you know that I really enjoyed your chess course and learned a lot from it. I'm going through it a second time now. I have read hundreds of chess books over the years but never learned many of the points which you made so clear!... The way you break down the positional evaluation it's all so logical and easy to understand if you take the time. I have read many books on positional chess but none break it down the way you do.!" - Jeff K
FIND OUT MORE - NEXT PAGE:


THE PROGRAM & METHOD OF STUDY