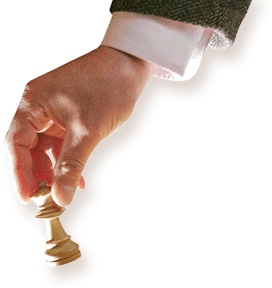 Grandmaster Package™
Frequently Asked Questions
My goal is to become a chess master. Is the GM Package right for me?
Yes! The Grandmaster Package was designed for those intermediate and advanced-level students who have high goals in chess. The course follows a structured program of study with advanced lessons and tests.
Check out these reviews from our students.
I am a beginner. Is the course right for me?
Yes, so long as you are not rated well under 1200. Although the course is designed for more advanced players, the lessons are carefully written so that beginners can follow the course too. This way, you'll learn to play good chess right from the start.
As your student, when can I reach out to you for teacher support?
Whenever you need any clarification with the materials. Also, you are very welcome to contact us whenever you have questions regarding studying or playing chess, or about your progress in general. Think about us as your chess friends!
For how long will I have access to my account and/or to the teacher support?
You will have unlimited access both to your account and to the free teacher support.
How do you compare with learning from books and/or taking lessons with a chess coach?
When you subscribe to the Grandmaster Package, it's like you'd get a series of chess books written by teachers whom you can contact anytime.
That's one of the reasons why we believe that we offer an excellent chess training solution. Compare books, teacher and our school.
What if I don't have time to get through the lessons monthly as they are laid out?
We can interrupt your monthly lessons and charges upon request. However, you'll always retain your free access to your account. Eventually, you'll be able to buy new "months" of training when you want to go forward.
I am not a young player and have not played chess for a long time. Can your course improve my rating?
Learning and improving at chess is very possible at any age. This has been proven by recent studies. Not only that it is possible but it's also healthy to learn new skills.
We have many students who are not young and they are very happy with how much the GM Package improved their understanding of chess and their love of the game.
How can I tell that I am getting better during the course?
There is an initial test and a set of similar tests at the end of the course. There are also many exercises throughout the whole course.
Our students report better results in tournaments after just a couple of months of study. Check out the reports of our students.
Can I use my smartphone or laptop to read the lessons?
Yes. To read the lessons, you can use any device such as a laptop or a smartphone. You can also print out the lessons.
However, to make things right, please study the lessons using an actual chess board.
How often will I receive lessons?
If you buy the full course, you get all the lessons at once. And you receive a nice discount and bonus too.
If you subscribe to the monthly program, you get a new set of lessons at the beginning of each month for 13 months in total.
How many lessons are given per month and how many pages do they contain?
The number of lessons, exercises and pages varies from month to month in line with the training program. Every monthly part is designed to be studied for about the same amount of time (approximately 7 hours a week).
I only have a couple of hours per week for chess study. Is it worth starting the course?
You can learn a lot in two hours when you have good, structured materials. Even more, the lessons teach what really matters without any 'fillings'. Hence, the GM Package will bring you maximum results for the time that you have. You can also study at your own pace and buy new months of training when you want.
Why don't you offer video lectures?
It's comfortable to sit and watch chess videos. However, students that do this show very little improvement compared to those students who study in the classical way using a real chess board and working their way through written lessons. The reason is that watching videos does not train the same parts of the brain that we use when we play on a real chess board.
Moreover, if you study on an actual board, you will also improve your online chess. But you will not achieve the same results in reverse! So, all our lessons are written lessons that we recommend to be studied over the board in the good 'old' classical way! We offer a few video lectures only as extra bonus material.
Can I download the lessons to my computer?
Yes, you can download everything to your computer. You can download the lessons and exercises as PDFs or PGN files. The video lectures come in MP4 format.
All the files work on any device and any platform, including a Mac.
I have read many theory books already and I know many of the topics in your program. How can your GM Package help me?
If you are below master level, you probably still have a lot to learn and Grandmaster Package is designed to fill all the gaps in your knowledge and understanding of chess. Moreover, the second part of the course contains many tests that are targeted at a high level. The solutions to these tests explain in detail how the best move and idea can be found. Working with these tests will significantly improve your level.
Let's see what our students in the same situation had to say:
"I have an ELO of around 2150 and have read hundreds of chess books. Rarely, if ever, have I encountered such a clear explanation of a model thought process."
"I'm also chess teacher and I have never found better chess material for improving chess level."
"As a 2080 ELO FIDE rated player, your method and approach look like a revolution to me."
How long have you been in business?
Glad you asked! We've been creating chess lessons and online courses for over 15 and have served over 10,000 students. We really are the first online chess school - we started under a different name.
Do you have more courses besides the GM Package?
Yes, as any school/university, we have more courses. We have the Openings Course, two one-year courses based on annotated chess games and strategy puzzles, and we are working on more projects. You can become a student of our chess school only by subscribing to our core course, the Grandmaster Package. This course alone makes real progress in chess happen. The extra courses that we offer complement the core course.
If you have any other questions, please contact us at admin@chessmasterschool.com
Grandmaster Package™

CHESS COURSE OVERVIEW